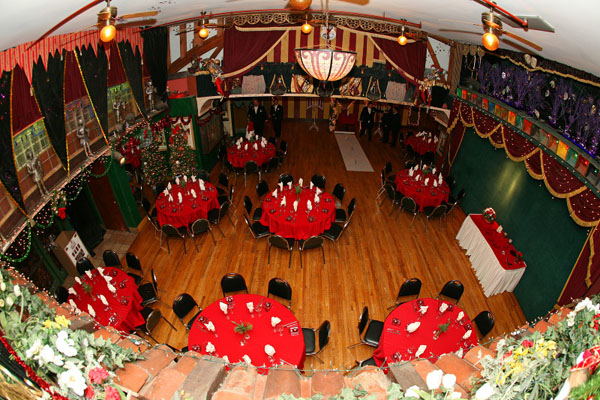 It's like Buca Di Beppo on steroids... and if you were already under the impression that Buca was on steroids, be prepared to meet the Jose Canseco of Italian joints.
Angelo's & Vinci's
in downtown Fullerton is wall-to-wall with crazy photos and artwork, acrobatic mannequins, and even a giant altar honoring, well, SOMEONE's dead family. I'm not entirely sure whose. Opened as a restaurant 36 years ago, the building once served as a marketplace for local farmers. In its current form, it bares closer resemblance to a circus than to a market. Without a doubt, the strangest part of the establishment is the Monster Wine Cellar. The dungeon-like room is several degrees colder than the rest of the building and houses a few broken arcade games, various caged nightmare creatures, and an assortment of mannequin body parts strewn about the ceiling, among other charms and delights.
Unusual atmosphere aside, there ain't nothing strange about the food. If you're like me and have a penchant for the splendor that is Italian cuisine, Angelo's & Vinci's will not disappoint. Reasonably priced and complete with all the Italian favorites, the eccentric ristorante is a gustatory treat appropriate for any occasion.... Valentine's Day for example! That said, have a wonderful Hallmark holiday, everyone! May you all be blessed with enough candy to keep you satisfied till Easter.
Links:
Dinner Menu
Getting there from VU:
1:
Start out going EAST on FAIR DR toward NEWPORT BLVD.
0.2 miles
Map


2:
Turn LEFT onto NEWPORT BLVD.
<0.1>
Map


3:
Merge onto CA-55 N via the ramp on the LEFT.
6.2 miles
Map


4:
Merge onto I-5 N via EXIT 10B toward LOS ANGELES.
4.1 miles
Map


5:
Merge onto CA-57 N via EXIT 107A toward POMONA.
4.8 miles
Map


6:
Merge onto CA-91 W toward LOS ANGELES.
2.7 miles
Map


7:
Take the LEMON ST exit- EXIT 28- toward ANAHEIM BLVD / HARBOR BLVD.
0.2 miles
Map


8:
Turn RIGHT onto S LEMON ST / N LEMON ST.
0.3 miles
Map


9:
Turn LEFT onto E ORANGETHORPE AVE.
0.2 miles
Map


10:
Turn RIGHT onto S HARBOR BLVD.
1.0 miles
Map


11:
End at 550 N Harbor Blvd


Fullerton, CA 92832-1516, US

Map
Total Est. Time: 24 minutes Total Est. Distance: 20.18 miles